Since the beginning of the Covid-19 pandemic, there has been a term that is always on everyone's lips: aerosols. But what are aerosols, why are they so important in connection with Corona and what can we do to counteract this invisible danger?
ESS-Simulated Use-Cases
With the help of the "Clean Air"-Module from alsim Environment, ESS can simulate the beaviour of Aerosols and give advice on how to increase the safety measures in both open and closed environments. Check out our Use-Cases below to learn more.
The green buttons guide you to case-studies that have already been released. The greyed out buttons are teasing use-cases that are to come in the next weeks.
What are Aerosols?
Aerosols are invisible suspended particles that spread over the air like a mist. They are the main reason this infectious disease is passed from person to person through sneezing, coughing, or speaking. Because of these particles, it has become the general rule worldwide to keep enough distance from your fellow human beings, as these aerosols can usually only be transported within a certain radius, depending on the spatial conditions.
The current state of science, supported by the World Health Organization, shows that surface and droplet infections contribute little to new infections and that airborne transmission is the main risk. To put a stop to this transmission, it is elementary and essential to ensure sufficient air exchange and circulation in closed rooms. This can be achieved with the help of ventilation systems, but also with the right strategy of "Stoßlüften"(opening all windows for 10-15 minutes), which has a great tradition in the DACH Region.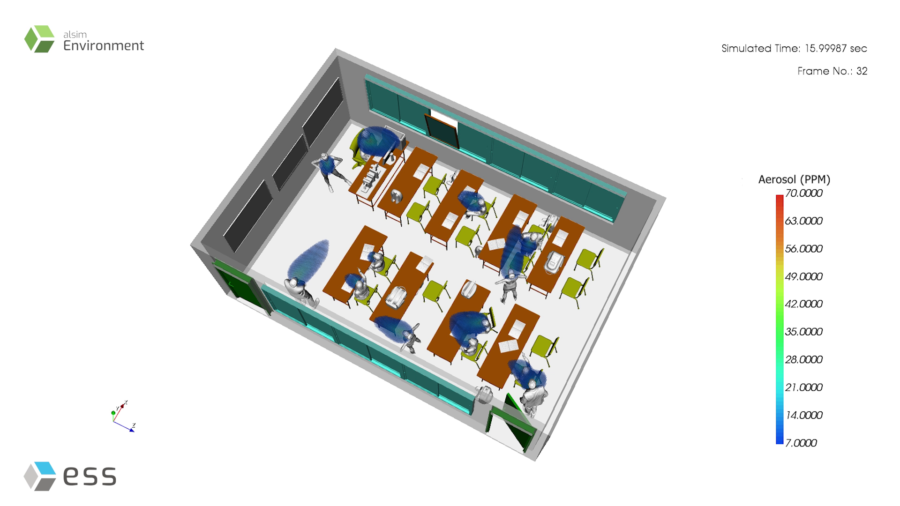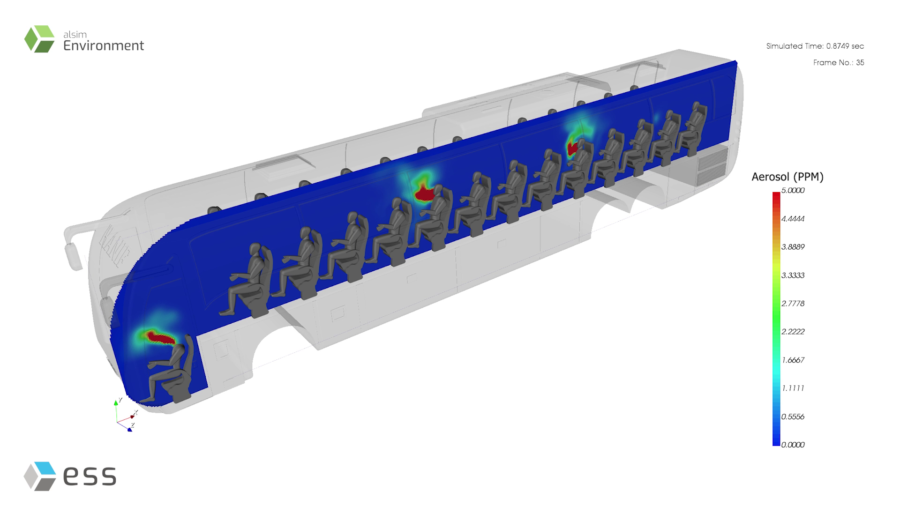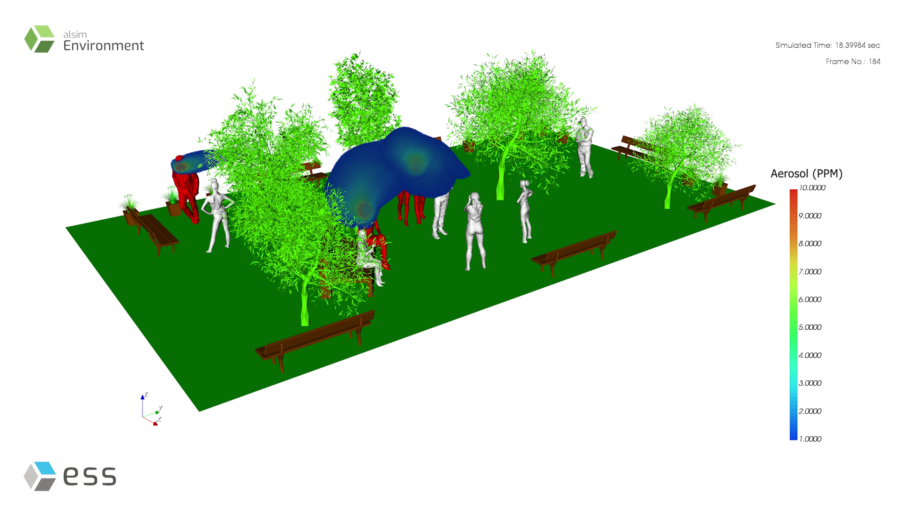 However, it is often difficult to measure how such ventilation systems can adequately pump out the air, as office furniture and other trimmings lead to a loss of efficiency because the room flow is disturbed by these elements and these in the conventional way cannot be calculated because these currents behave differently than assumed due to eddies and dead zones.
How can ESS help
Precisely for this reason it is now important to optimize this calculation, namely by means of flow simulation using CFD. By using these methods, it is possible to include complex parameters such as air humidity, the arrangement of people but also mouth and nose protection in the calculation to be able to obtain such exact results for every room, no matter how big it is or what objects in it occur to obtain the optimum for the ventilation and the indoor climate.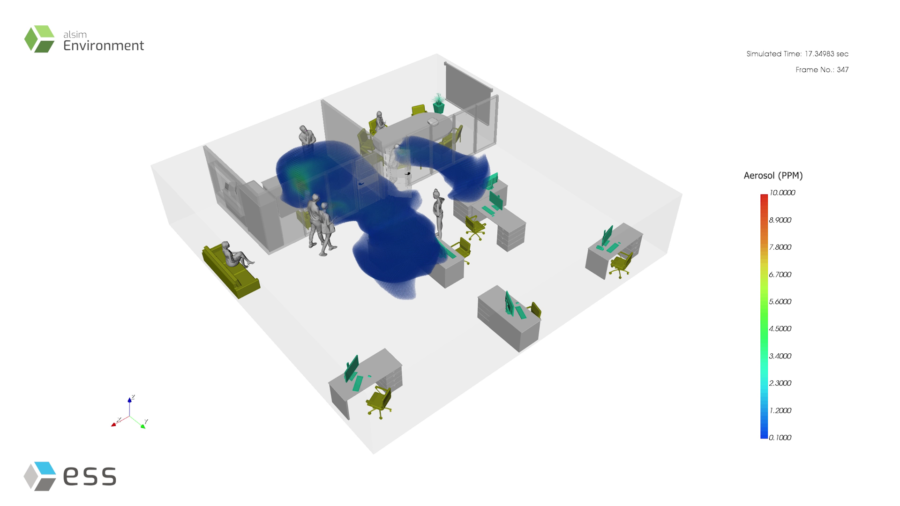 To be able to get the best results here, it is advantageous to simulate the premises with CFD from the beginning in new buildings. With the results of these simulations, it is possible for ventilation planners to optimally adapt the ventilation systems to the conditions in the respective rooms.
In this way, it is possible to determine right from the start how the optimal protection against infection can be guaranteed. And not only regarding Covid-19, but also other viral diseases such as influenza. Furthermore, the CFD calculations can save additional energy and costs.
Satisfactory ventilation and the associated necessary CFD simulation will become more and more important in the future to be able to achieve a good and safe life for everyone!