Spray Wash Simulation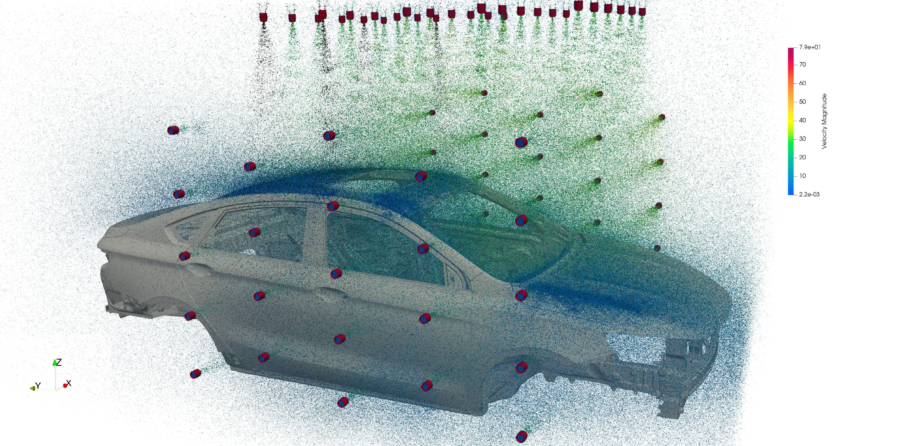 Potential error source during Spray Wash
Automotive paint shops have high complexity within their multi-stage process. Several layers of coatings and paints are stacked on top of each other not only for visual appeal, but also to protect against corrosion.
Often the BIW might undergo the pre-treatment process of spray wash for cleaning the car body and release it from potential pollution and impureness.
This step is of great importance since it avoids poorly or even non-painted areas in the proceeding steps. Coatings and paints can only attach to clean areas. Many paint shops are confronted with this delimma as it is problematic to gain exact insight into the cleanliness of the BIW and futhermore, it is hard to ensure complete control over possible liquid carryover and drainage.
This puts paintshop managers in a situation of uncertainty in which they have neither insight nor control over a possible source of error. This, unfortunately, can have great impact on the quality of the end product.
alsim Paint Shop Spray/Rinse
It is precisely at this point of losing control that our simulation software solution comes into play: alsim Paint Shop Spray/Rinse module manages this issue.
It provides our customers with an accurate and fast simulation of the spray wash process in which all parameters such as number of nozzles, pressure, liquid distribution, contact time, drainage and liquid carry over can be simulated precisly and therefore improved.
In other words, this module gives you full control over the process and optimizes this step in a way to achieve optimal results.
Especially in a complex area such as the paintshop, which requires the highest quality as well as cost and time-efficient utilization, our simulation tool can provide you with a great advantage by providing the comforting security of having insight and control over your own processes at any time.