CII Surface and Coating Expo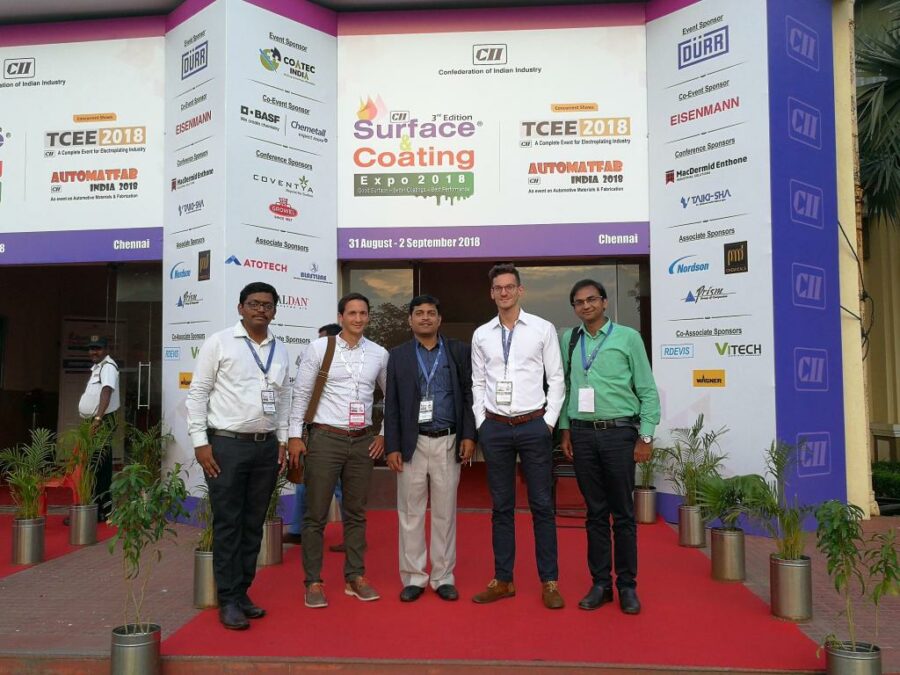 ESS REVIEW OF THE CII SURFACE AND COATING EXPO
More than 100 potential clients visited us at our stall #118 in the venue. To name a few amongst those were Ashok Leyland, Eisenmann, Volvo Eicher, Jain Irrigation, Hyundai, Toyota Kirloskar, Caterpillar and more. Further, we were able to prospect with whom we are looking for collaboration. Examples of those goods companies are Taikisha Engineering, Surfin, Crescent, Kamal CED, Rdevis, Prism, to name a few.
Moreover, our CMO Karl Felbauer was invited to present our ALSIM Platform in the technical talk "Correct Physical Simulation of Paint Shop Processes by the Example of e-coating". The aim of the presentation was to make people understand the usefulness and importance of e-coating simulation. It was well delivered as after the presentation a lot of people visited our stall and enquired about our simulation tools. In fruitful discussions, many representatives of automotive OEM's shared their issues. Basically, vehicle manufacturers aim to reduce the total number of prototypes needed with the purpose to find the optimum in minimum energy required for the process of ensuring the highest quality in corrosion protection.
ALSIM Paint Shop gives full control over the most expensive process in the automotive industry. Developed for ease of use and quick turnaround times, these solvers are validated by productive Body-In-Whites run on a single desktop machine in view hours. ALSIM Paint Shop is a fast, reliable and cost-effective tool that can be used by non-experts.
During the numerous conversations with industry leaders, we had been able to present those and various other benefits of ALSIM Paint Shop to the engineers and business developers as well, who afterwards invited us to their office to demonstrate the capability of our innovative simulation tool, ALSIM Platform.
To conclude, the CII Surface and Coating Expo 2018 was a full success for both ESS Engineering Software Steyr and all the people we had the chance to talk to.