Shared Love and Calculations for Car Paint
Xinghua Song and Hui Cao met at Kepler University. Now the couple is doing research for the automotive industry in Steyr.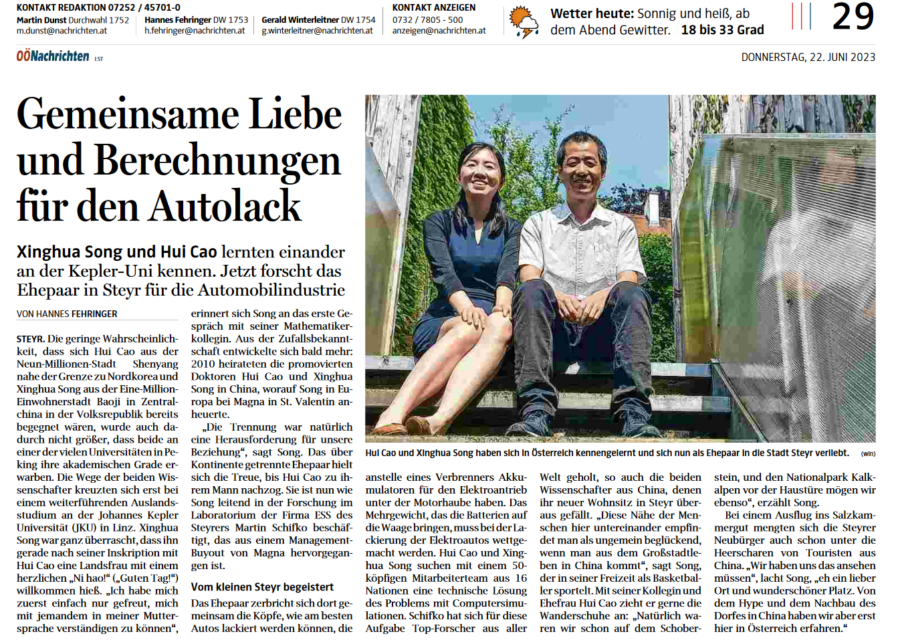 Link to the original article from Oberösterreichische Nachrichten | Hannes Fehringer
The small probability that Hui Cao from Shenyang, a city of nine million people near the border with North Korea, and Xinghua Song from Baoji, a city of nine million people in central China, would have met in the People's Republic was not increased by the fact that they both earned their academic degrees at one of the many universities in Beijing. The paths of the two scientists only crossed during further study abroad at Johannes Kepler University (JKU) in Linz. Xinghua Song was quite surprised that just after his enrollment with Hui Cao, a compatriot woman greeted him with a warm "Ni hao!" ("Good day!") welcome.
"At first, I was just happy to be able to communicate with someone in my native language," Song recalls of the first conversation with his fellow mathematician. The chance acquaintance soon developed into something more: in 2010, Hui Cao and Xinghua Song, both PhDs, married in China, after which Song joined Magna in St. Valentin, Europe.
"The separation was, of course, a challenge for our relationship," Song says. The couple, separated across continents, remained faithful until Hui Cao joined her husband. Like Song, she is now a senior researcher at the laboratory of Steyr's Martin Schifko's company ESS, which emerged from a management buyout of Magna. Enthralled by little Steyr. The couple is racking their brains together there on how best to paint cars that have accumulators for electric propulsion under the hood instead of a combustion engine. The
The extra weight of the batteries has to be compensated for when the electric cars are painted. Hui Cao and Xinghua Song, together with a team of 50 employees from 16 nations, are looking for a technical solution to the problem using computer simulations. Schifko has brought in top researchers from all over the world for this, including the two scientists from China, who are thoroughly enjoying their new residence in Steyr.
"This closeness of the people here to each other is something you find immensely gratifying when you come from big city life in China," says Song, who plays basketball in his spare time. With his colleague and wife Hui Cao, he likes to put on his hiking boots: "Of course we've already been to the Schoberstein, and we like the Kalkalpen National Park on our doorstep just as much," Song says.
During an excursion to the Salzkammergut, the new citizens of Steyr also already mingled with the legions of tourists from China. "We had to see that," , laughs Song, "surely a nice village and a beautiful place. But we only learned about the hype and the replica of the village in China after coming to Austria."