WCX18 – Experience ESS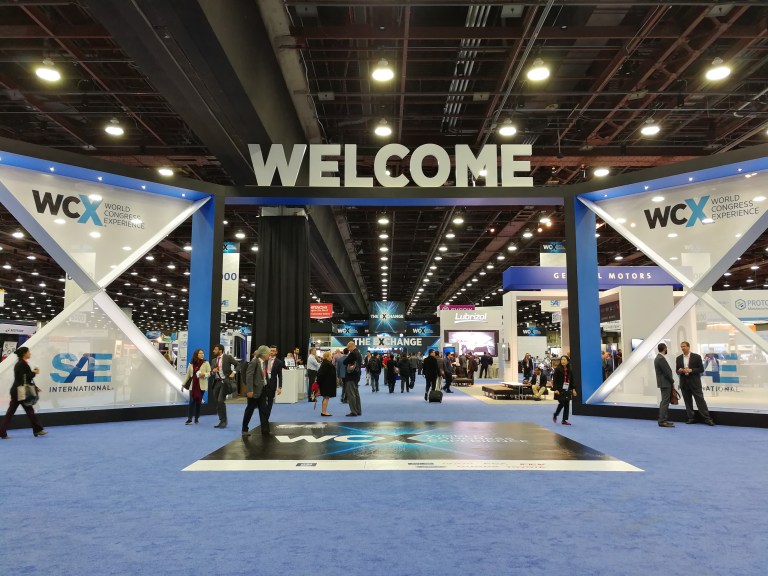 WCX18: EXPERIENCE ESS AT BOOTH #4037 AND TWO EXCITING TALKS
The WCX18, from 10th to 12th of April, is seen as the hotspot for talents in the mobility industry to connect and attracts well-known global acting manufacturers such as Toyota, Honda, Hyundai, General Motors and more, as well as innovative SMEs and promising Start-Ups. Since its foundation in 2015, ESS had consecutively been an active exhibitor and invited presenter. In 2018, ESS is sending a delegation of experts to host a booth as well as to deliver two talks in front of the elite of the automotive industry.
EXPERIENCE ESS
The stand of ESS Engineering Software Steyr, #4037, is providing a live validation of its gearbox simulation, where potential customers can compare simulation and real-life results side by side. Our skilled experts are prepared for exciting talks about how our software-tools can solve current issues in the automotive industry in cooperation with innovative partners.
The first talk held on the 10th April, from 9:00 AM – 11 AM in room 142A, is focussing on new technologies that will disrupt the CFD simulation software market. The title "GPU-Accelerated Meshless CFD Methods for Solving Engineering Problems in the Automotive Industry" invites industry-leading companies as well as innovative start-ups to get in touch with the future of fast, reliable and cost-efficient simulation, our newest software-tool SENSE.
Talk number two takes place on the 12th April, from 3 PM – 3:30 PM in room 311B. This presentation is dedicated one of the most resource-consuming tasks in automotive production – bad-quality meshes. Instead of addressing the issues deriving from poorly executed meshing, our talk will present an easy-to-use and time-saving alternative to manual pre-processing of 3D data. "Autonomous Meshing" provides an insight into a fully-automated meshing solution enhancing business performance at the very base of automotive engineering, with our software MERGE.
Do you want to get more information about our disruptive software solutions?
Experience ESS Engineering Software Steyr at booth #4037 and our two exciting talks at the WCX18!