ESS is a hidden giant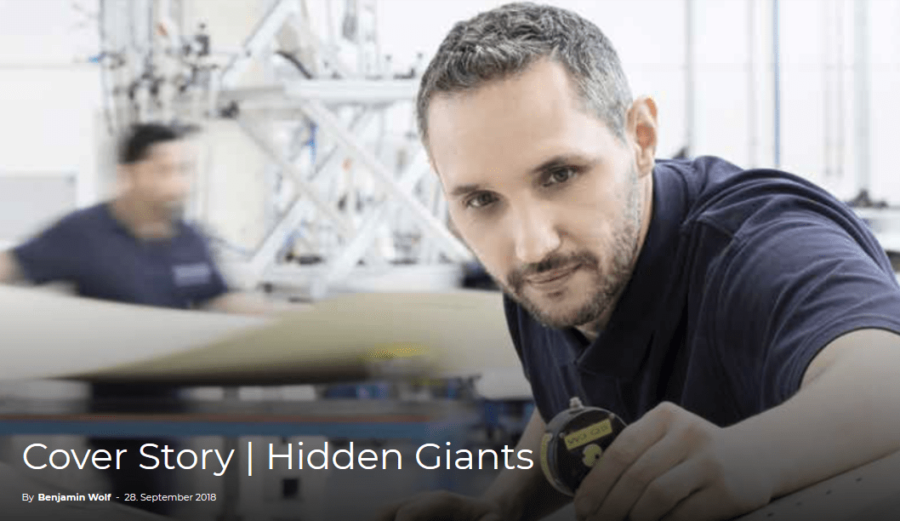 AUSTRIA MAY SOMETIMES APPEAR FROZEN IN TIME. BUT BELOW THE SURFACE, ITS PEOPLE POWER ONE OF THE MOST VIBRANT GLOBALIZED ECONOMIES IN THE WORLD
Skis, steel and tobacco – that's what Austrians need to make you fly. But not on two planks, dashing downhill, nor bungee jumping from a towering bridge; and not with a deep drag of nicotine from a Sargnagel, a "coffin nail."
No, Austrians will take you above the clouds – literally. As you settle into your seat in the aircraft, as the flaps settle back in place and the winglets begin to vibrate gently, the engines whir and a cheerful voice welcomes you aboard. It may be the Donauwalzer coming over the sound system. But from take-off to landing, it is Austrian technology that keeps you safe.
Austrian industry makes up 28.3% of the country's economic output, employing more than 425,000 people. Including industry-linked services and trades, over one million jobs in the Alpine Republic are tied to the manufacturing sector. But put on the spot, it would be hard for many foreigners to spontaneously name a big Austrian industrial company. Even Austrians can find it difficult.
And yet, Austrian industrial prowess is in high demand. A whopping 64% of industrial production is exported, and in some branches, the export quota is even higher: For electronics, it's 80.7%; for the automotive industry 84.2%. Austria, one could say, is building the marrow for the backbone of the global economy. And while largely invisible, it is work that is both sophisticated and fundamental for the functioning of our modern world.
These are the hidden giants – companies that are world market leaders in their fields, even though their names are largely unknown. These are firms that pour billions into research and development to refine a product that you never knew existed. These businesses – often still family led – may be located on the outskirts of Vienna, in a Styrian valley or in the hills of Upper Austria, yet their goods and services are coveted from Singapore to San Francisco to São Paulo.
Austria has some 160 of these hidden champions, along with many smaller firms, that keep the industrial sector vibrant. But to find out how they take us to the skies and beyond, we need only follow the trail of skis, steel and tobacco.
ENGINEERING PROWESS
A hundred kilometers to the east, in Upper Austria's Traunviertel, a similar success story has just gotten underway. In the historical center of Steyr, 35-odd software engineers from 15 nations are developing new tools for data processing and simulating the process of varnishing automobiles. Founded in 2015, the company, Engineering Software Steyr (ESS) has grown rapidly.
Founder and CEO Martin Schifko is a soft-spoken man, at the first encounter more like an academic than a tough manager. But his deep technical knowledge and expertise combined with business acumen have already bagged contracts with major manufacturers like Ford, General Motors and Honda.
"I used to develop software products like these for Magna," a global Austro Canadian automotive supplier. But it had not proved commercially viable, so his department was shut down.
But Schifko had seen potential – after all, he had developed these software tools himself in his doctoral dissertation, developing a preprocessing tool for Magna. Now he would pick up where he had left off. He bought the rights to the technology and launched his own two-man firm.
"What I quickly realized is that for software, the conditions are special," Schifko explains. "After just half a year, we were listed as a tier-one supplier for General Motors (GM), a process that for manufacturers of physical parts can take up to three full years!" He thinks Upper Austria is the best industrial location one could hope for. His company quickly got grants from the Austrian Research Promotion Agency (FFG) and the EU, which even admitted it to the Horizon 2020 program. "Each research grant allowed us another expansion step," he says. Recently, ESS opened an office with two programmers in Bangalore, India.
Operating on a global scale is also a challenge for small and medium-sized companies. What helped ESS enormously, he says, was the global network of trade delegates of the Austrian Economic Chamber (WKO) – praise that Eric Savoye, project manager of the joint "go-International" program of the WKO and the Federal Ministry for Digital and Economic Affairs, hears gladly. "We want to help Austrian companies do good business in markets around the world."
More than 660 experts man the WKO's 110 Außenwirtschaftscenter locations – more than the 82 embassies of the Austrian Foreign Ministry. From Tirana to Tripoli, from Helsinki to Hanoi, the "Advantage Austria" network is worldwide.
Their current focus is scouting for trends and innovation. "We are already based in the world's high tech hotspots," says Savoye, "and want to connect Austrian companies with actors and technologies there – be it robotics in Switzerland, life-long learning in Tokyo or smart devices in Silicon Valley."
These services don't come cheap – by law, every Austrian company has to be a member of the WKO and pay membership fees that make up an annual budget of some €850 million supporting a total of 3,800 employees. Still, member companies ask a lot from their chamber. Particularly for small companies that have a world-class product but can't afford a global sales network, the trade delegates are more than worth their salt.
"For interested companies, we provide everything from in-depth information on the market to special reports on their product sector, chaperoning them through their market entry, organizing trade fairs and networking events," Savoye relates. His enthusiasm is contagious. "Hey, if they need a plot of land in Chengdu to build a factory, we will find it for them!"
For ESS, all this is highly relevant. "We are currently developing brand-new software for flow simulations that can run 100% on normal graphic cards," ESS's CEO Schifko reports, with evident pride. "This should make running a flow simulation cheaper by a factor of 80 and make it an available tool for small and medium-sized companies everywhere." They want to start in the automotive sector, but the potential of the technology goes far beyond, with applications in medicine (simulating blood flow to prevent thrombosis) and many other fields. The WKO's network will be crucial to reach out to these diverse partners. "If you have the right idea," Schifko says, "you can make it everywhere!"
By Benjamin Wolf