We've rebranded!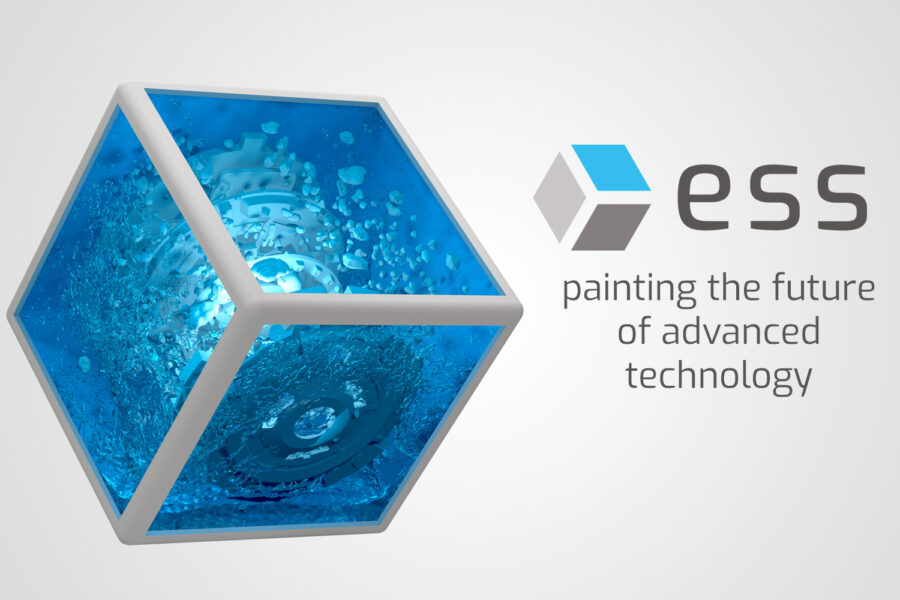 New Year. New appearance. Everlasting commitment
We're thrilled to announce that as of January 2021, ESS has new branding! Over the past few months, we have poured our souls into creating a revamped version of ourselves. In the spirit of rebranding, we'll continue to commit to our valued customers and ensure an even improved level of proficiency and competence. The excitement and pride in our new branding will remain short without us sharing it with you. We take this opportunity to thank our loyal customers and partners for your trust and confidence in us. As we complete 6 years of ESS, our thirst for knowledge and our spirit of innovation is now even more fierce than ever.
Why are we rebranding?
Taking advantage of our experience in the automotive sector, we are broadening our horizons to other sectors. This calls for streamlining our products & services and creating a foundation for the exciting future of ESS. With the advent of new solutions and alsim CLOUD, we wish to ensure it is easier for everyone to circumvent through our offerings with this new categorization.
Besides, it is equally important for us to reflect our values and voice of what ESS stands for – our identity – through our brand. Our ethos and disposition, for which we have always been chosen in the automotive sector, ought to be carried forward and projected across all industries. And we aim to realize this through a formal rebranding.
---
Why choose ESS?
The growing demand for a drastic reduction in emissions & energy consumption can only be met by enhancing the real-world processes through simulations. This opens up a scope for further improving the process/design to reduce the wastage of resources or to enhance the durability of the manufactured products. We advocate & contribute to this cause, by ensuring all our products and services offered globally are accessible and usable by every industry, small or big!
Our unique approach personalizes the physical properties and methods around different industrial processes, by employing the technical know-how obtained from our industrial experience. This is further strengthened through the experiments in our in-house validation lab.
This intuitive approach makes our solutions tailor-made for several applications across industries. They can be used by anyone without CFD expertise – unlike the other solutions in the market. This allows process experts to take full control of their designs and processes, bringing a positive impact to the environment in addition to saving a lot of costs.
CFD solutions for everyone continues to be our unique attribute. Reducing resource & energy consumption and lowering carbon emissions is our mission.
---
What has changed?
We have streamlined all our solutions under one roof – alsim PLATFORM. This includes our simulations solutions which are provided to our customers. Our service offerings will now be tagged under alsim SERVICES and will continue to provide you with the best results as always. Our latest venture – alsim CLOUD – is currently in its developmental phase.
You might also notice changes to the names of our commonly used applications. For example: alsim MERGE will be termed as alsim Data Cleaning Merge. Airbubble & Drainage is one of the several applications under alsim Paint Shop and will be referred to as alsim Paint Shop Dip Paint. Please refer to our product categories below to understand this better.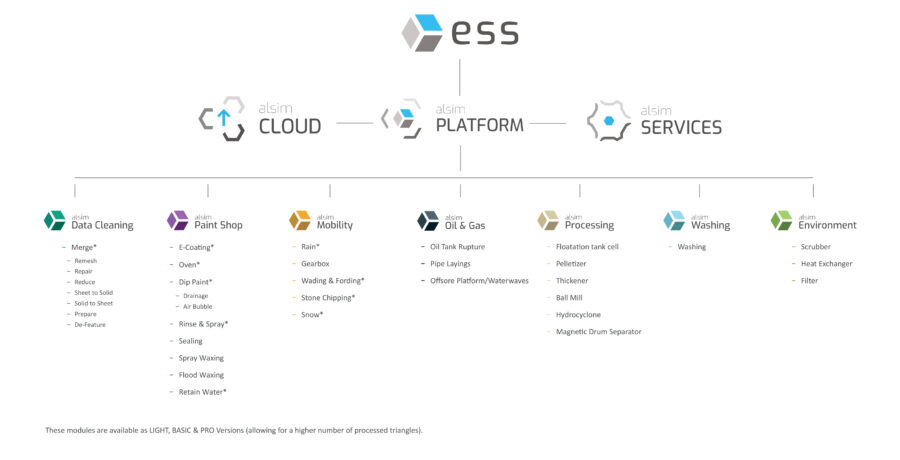 Apart from the changes in the nomenclature, we will be providing LIGHT, BASIC & PRO versions for many applications to accommodate your requirements cost-effectively.
Our website is adapted to incorporate these changes. Therefore, you can access the product details based on the industry and/or product categories from the alsim PLATFORM page. You can check out our corporate design manual here.
As you notice changes in our branding, logos, and promotions, we would certainly love to connect with you and have a chat. Feel free to reach out with any thoughts, feedback, or compliments. If you enjoy social media, please connect with us on any of our social media pages. As always, please do not hesitate to call us anytime. If you enjoy our ESS monthly, please make sure you are subscribed to it here.
---