Customer Success Story – INEOS Automotive
The forthcoming Grenadier from INEOS Automotive is the archetypal 4×4 that one might need for operating in the most rugged terrains and harshest of weather conditions. In over 4 years of development, the Grenadier has undergone testing in some of the most extreme conditions across 15 countries around the world.
As a new automotive manufacturer, INEOS Automotive is leaving no stone unturned to make sure its first vehicle is a serious contender in the off-road market. Alongside leading industry partners, the Grenadier has been developed based on centuries of combined experience. ESS was one such partner who worked with INEOS Automotive to perfect its paintshop processes for the Grenadier using CFD simulations.
ESS was responsible for the optimization of dipping-in, ecoating, dipping-out and floodwax processes. Durability of a vehicle is heavily dependent on its corrosion protection and paint quality. For a vehicle like the Grenadier, that is built to thrive in the harshest weather, it was crucial to ensure top-quality painting processes – as promised by ESS.
alsim Paint Shop Dip Paint was used by our experts to minimize air bubbles and residual paint puddle for the vehicle's chassis (ladder frame) and the body-in-white (BIW). This was done to ensure high-quality paint coverage for the vehicle's body and that there is minimal air bubble volume after immersion and minimal liquid carryover from the e-coat tank.
Based on several simulations conducted using our sensitivity analysis feature, the optimal position for hanging the vehicle's chassis was determined and the minimum air bubble volume and puddle volume was calculated.
Our team of experts also determined the exact potential problem areas on the vehicle body for their existing process settings. As these areas could potentially cause air entrapment and paint puddles, appropriate solutions were suggested for every area of concern.
Our team was also able to predict the weight carrying capacity of the fixtures used in painting processes to hold assemblies, that could be used in future variants of the Grenadier.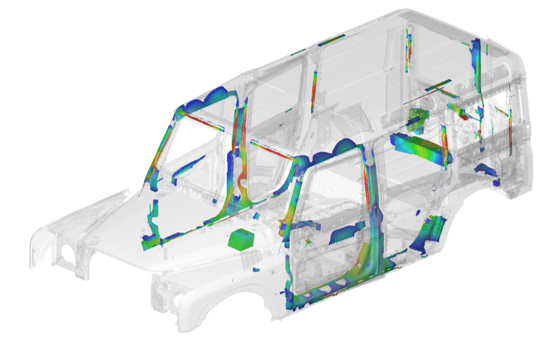 An extremely detailed analysis of e-coating process for the Grenadier was performed at ESS using alsim Paint Shop E-coating. We predicted the exact areas on the car body where there will be thinner coating of paint, and then the voltage profile was further optimized to improve the coating.
In real world, since e-coating happens after dipping the BIW into the tank, there could be the added effect of air bubbles formed on the BIW.
With our software, it was easy to load the results from air bubble simulation and examine its impact on the paint thickness. The end goal for us was to ensure uniform paint thickness and eliminate poorly painted regions throughout the vehicle. This can be satisfactorily achieved with the help of the results provided to INEOS Automotive.
Quality of flood waxing process is another aspect that was optimized with ESS solutions. Wax filling and wax drainage simulations inside cavities of the ladder frame assembly (chassis) was performed, and the quality of flood waxing process was calculated. Predictions were made to help improve the corrosion protection of the Grenadier.
Overall, with ESS' help, INEOS Automotive has been successful in discovering the correct process settings and adjustments needed for perfecting the paint quality of the BIW and the chassis. It is safe to say that the paint quality of INEOS Grenadier will exceed expectations and will hold up even in the toughest conditions.
Conclusion
In addition to improving paint quality, INEOS Automotive has reduced its environmental impact and costs by diminishing resource wastage and eliminating prototype loops. Usually 'trial-and-error' prototype loop methods, are not only necessary for optimizing paint shop processes, but also for gathering specific requirements for design.
Shorter development process
Rather than relying on multiple expensive loops, realistic simulation results from ESS' alsim Paint Shop were used by INEOS Automotive, which drastically saved expenditure and time. Without simulations, these costly loops could have taken up to 2 weeks each, contributing to increased time-to-market and costs.
Getting rid of trial and error
Avoiding physical trial-and-error methods has also considerably scaled down material wastage. Reduction in consumption of expensive materials like wax and other resources like energy and time, contributes to the overall cost reduction by vehicle manufacturers quantified in millions of euros.
Get in touch now!
Taking the example of INEOS Automotive, any vehicle manufacturer can reduce their carbon footprint by using CFD simulations to optimize the consumption of materials, energy and time. Arrange a meeting with us on our website, and let us work with you in optimizing your paint shop!