Pegasus in Gold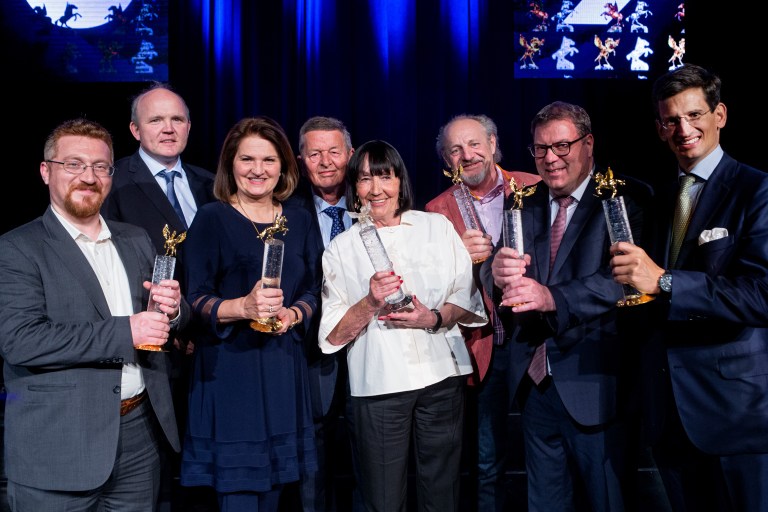 After being nominated for the Pegasus award for the second time in a row this year, we have grown wings in the best sense of the word. Like last year, the OÖ Nachrichten, Upper Austria's biggest daily newspaper, invited us to a gala evening at the Brucknerhaus in Linz. To be among the top 10 companies in the category "Promising Future Innovators" was already a great acknowledgement of our hard work. When we were then selected by the expert jury into the exquisite circle of the best three young companies, the evening was even more exciting.
Throughout the evening, invited guests, colleagues and friends from the business world were able to vote for their favourites in a hall voting. When the winner was announced at the end of the gala, the team present from ESS was tense and sitting on the edge of their seats in anticipation. With an impressive majority we were able to secure the Pegasus in gold! Both our CEO Martin Schifko and our CMO Alireza Eslamian accepted the award both overwhelmed and overjoyed on stage.
Having won one of the country's most important economic prizes only in the fourth year after ESS' establishment, is a great tribute to what has already been achieved. For us at ESS, it is even more of an incentive to continue on in our refinement of our innovative software solutions and to make the world a little smarter, more efficient, and more sustainable even beyond the automotive industry. The award reminds us not only to be proud of ourselves, but also encourages us to fully exploit our potential. We would like to once again express our sincere thanks to everyone involved and we will continue to promise to fly higher and higher, just like a Pegasus, for many years to come.